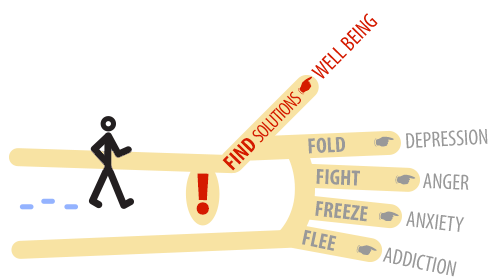 The Hand Map for Understanding How Relationship Problems Trigger Emotional Distress
Relationship problems periodically arise at home, and also at work, for everyone. As you walk down the road of life, from time to time inevitably you will bump — ! —into difficult personal situations or relationship problems.
Which of five possible pathways you take from there will determine how you feel.
Both at home and at work, relationship problems are probably the most common causes of bumps and therefore sources of negative emotions.
Fortunately, whatever difficulties you encounter, with the requisite skills there is much you can do . Insure that you can find pathways back to personal well-being and relationship goodwill by learning the communication and conflict resolution skills that keep relationships humming along smoothly.
Scroll down to the videos and handouts below. They offer guidance for handling relationship problems in ways that prevent slippage down the roads that might otherwise lead to depression, anger, anxiety or addictive habits.
---
In addition, click here to listen to a podcast in which Dr. Heitler conducts a live couples therapy session.
Relationship Problems: Videos
Power of Two Marriage & Relationships
Dealing With Differences — Conflict Resolution in Marriage
Couples Therapy with Angry Couples
Relationship Problems: Worksheets
Relationship Skills: Books & Website