Self-Help Books & Products
Here you will find self-help books, products and more from Dr. Susan Heitler. Here goal is to help you feel better and life a happier life.
For many people, do-it-yourself (a.k.a. DIY) self-help books are a great was to supplement other therapy or counseling services.
Below are resources for healing depression, anger, anxiety, conflict resolution and relationship challenges. Use these self-help books, audios, and video resources to handle the challenging situations in your life.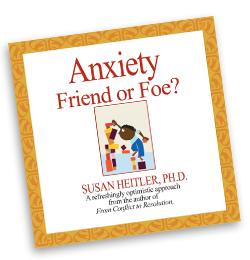 AUDIO CD
Many of life's challenges trigger a pounding heart and a worried mind, but is anxiety necessarily a disorder? Dr. Heitler sets forth a refreshing new view: anxiety can be transformed into a positive life force.
✦ Part I — Use it, then lose it.
✦ Part II — Actors replay vignettes from therapy sessions.
Dr. Heitler's gentle techniques convert nervousness, anxieties, panic attacks and agoraphobia to helpful sources of personal guidance.
Who is this CD for?
For the general public. Also used by therapists to accelerate treatment with homework listening for their clients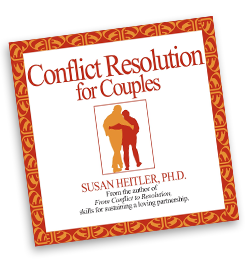 AUDIO CD
Collaborative conflict resolution skills insure a healthy relationship. Dr. Heitler, actors and a live audience keep this Audio CD engaging and fun. Content is similar to The Power of Two, but in audio format.
Learn to utilize conflict as an opportunity for building collaboration, cooperation, warmth, affection and caring — those elements that give a sense that home is a source of comfort and sunshine.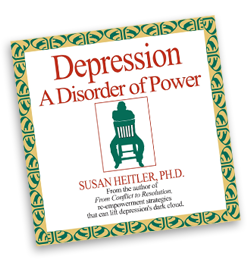 AUDIO CD
Giving up in the face of conflict triggers depression. Dr. Heitler's techniques are designed to dissipate depression's dark cloud.
Who is this CD for?
For the general public. Also used by therapists to accelerate treatment with homework listening for their clients
BOOK
Have you ever wanted relief from feeling discouraged? worried? irritated? locked in habits that ultimately harm you? These negative states–depression, anxiety, anger and addictive habits–are the common colds of mental health. Like mild physical illnesses however, they can cause much distress and, if left untreated, can lead to worse difficulties.
"PRESCRIPTIONS Without Pills" offers techniques for resolving the problems that have been provoking your uncomfortable emotions. "PRESCRIPTIONS" guides you back to feeling good and then shows you how to sustain feelings of well-being.
Avoid the risk of negative side effects like weight gain and mental dullness that can result from taking pills to reduce your negative emotions. Instead implement these drug-free prescriptions. Use the prescriptions on your own or with help from a therapist.
Illustrated with engaging stories from the many clients Dr. Heitler has worked with in her forty-plus years as an internationally known psychologist and psychotherapy innovator, "PRESCRIPTIONS Without Pills" aims to help you navigate the route back to well-being and learn skills that can help you to stay there.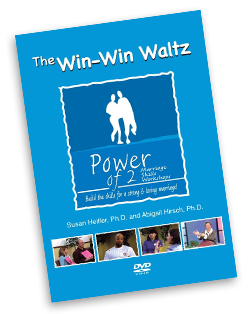 DVD
The best gift you can give yourself, your spouse, your children and your grandchildren is to learn the skills for a strong and loving marriage. In this engaging and informative DVD, actors portray participants in a Power of Two weekend workshop. Watch it again and again and you too will learn to replace tension and argument with friendly dialogue.
Can all conflicts be resolved cooperatively? Susan Heitler believes the answer to that question is a clear and solid YES. With the skills of the win-win waltz, plus some creative thinking, you can transform all of your his way–her way differences into opportunities for finding gratifying our-way solutions. Learn how to:
✦ Talk about sensitive issues and evoke interest, not defensiveness
✦ Listen in a way that consistently enables both of you to feel heard
✦ Dialogue with productive yes-and strategies that keep you feeling like partners.
✦ Turn arguments into opportunities for shared creative thinking
✦ Find win-win solutions for every marriage dilemma.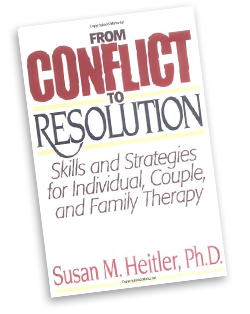 BOOK
Dr. Heitler unites various schools of therapy with a powerful insight: Conflicts, within and between people, lie at the core of emotional distress. Emotional healing depends on movement from conflict to resolution. Therapists, whatever their belief system, serve as guides along the way, and therefore must be expert at conflict resolution. With lively case examples, and immediately useful treatment strategies, this book has proven a favorite for therapists of all levels of experience.
Who is this book for?
Primarily for therapists. Also of interest to lawyers and to the sophisticated general psychology reader, this book has a comprehensive, integrative perspective about therapy.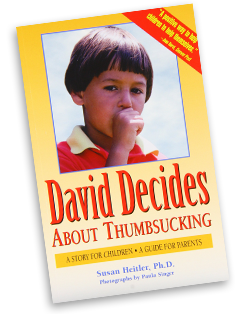 BOOK
A story for children, plus a guide for parents and professionals. Five-year-old David sucks his thumb. His parents say it's time to stop. David is mad; his thumb feels good in his mouth. He talks with his sister, and then his brother. He asks them why they decided to end their sucking habits and why they stopped. Then, David decides. The Parent Guide addresses myths and realities about thumbsucking. It contains comprehensive information and a review of relevant research for pediatricians, dentists, counselors and teachers, as well as for concerned parents.
Do sucking habits make children less confident or more?
Does thumbsucking really impact children's teeth and facial appearance?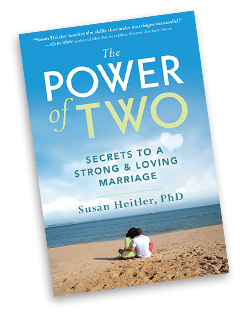 BOOK
The Power of Two details the communication and conflict-resolution skills that happy couples use to deal with differences.
"Dr. Heitler teaches the skills that make marriage successful. With easy-to-remember guidelines and entertaining examples, she shows us how to create satisfying dialogue, resolve conflicts, and deepen intimacy to insure a joyful and lasting marriage." John Gray, author of Men Are from Mars, Women Are from Venus
✦ Cooperative dialogue
✦ Conflict resolution with the "win-win waltz"
✦ Shared decision making
✦ Safe strategies for anger
✦ Recovery after upsets
✦ Ways to make a good marriage great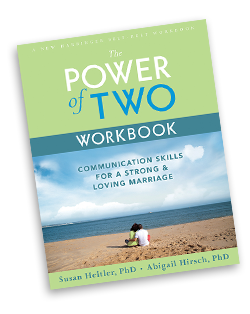 BOOK
With this step-by-step workbook you can learn the communication and conflict resolution skills that make married life flow smoothly. Brief explanations of each skill are followed by fun practice exercises. Talk Together questions guide you in discussing your new skills with your life partner.
✦ Maximize your relationship's potential!
✦ Speak your mind in a way that invites your partner to hear your concerns with interest, not antagonism.
✦ Listen so your conversations flow cooperatively.
Resolve your differences with the "win-win waltz."
✦ Keep anger constructive.
Clean up after distressing upsets with effective apologies that prevent similar upsets in the future.
✦ Avoid the Big-3 Mistakes couples make.
✦ Learn to nurture love with affectionate intimacy in a warm and happy home.
✦ Resolve you differences with the win win waltz
✦ Clean up after distressing upsets with…
To learn the most from your Power of Two Workbook, purchase two workbooks so each of you can fill out all the practice examples.
Work independently, and then share your answers.
For deeper background understanding, read the companion book, The Power of Two: Secrets to a Strong & Loving Marriage.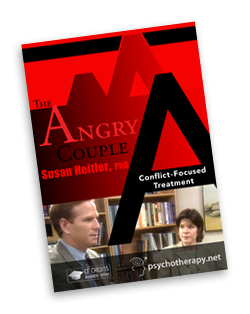 DVD
Dr. Heitler demonstrates her highly original approach for helping couples to cut through impasses and build a more positive relationship.
The video recreates key moments in a six-month therapy with a distressed couple in their early 30's who seem locked in irreconcilable conflict.
Who is this video for?
Originally designed as a teaching tape for therapists, new and seasoned clinicians alike give it rave reviews. In addition, couples engaged in self-help or curious about couples' therapy also find the tape inspirational and informative.