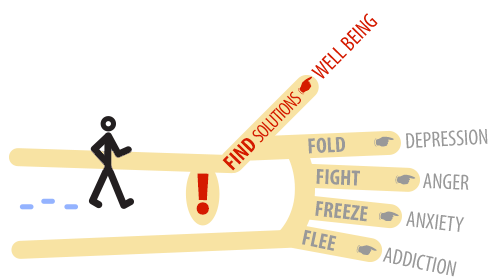 Dr. Heitler's Hand Map for Sustaining Well-Being
Susan Heitler, PhD, a clinical psychologist educated at Harvard and NYU, devotes her professional energies to developing resources for other therapists and for individuals, couples and families—resources that increase personal well-being and sustain relationship satisfaction.
As you walk down the road of life, from time to time you will hit bumps: !
Bumps are upsetting situations—a tough personal decision, a conflict between you and others, or difficult circumstance such as illness or financial set-backs.
The five possible pathways from the bump will determine how you feel.
Fold on getting what you want and you will feel depressed.
Fight and you will feel angry.
Freeze with regard to addressing the problem and you will remain anxious.
Flee and you risk addiction to bad habits.
Find solutions and well-being will return.
Dr. Heitler has earned a national and international reputation for her teachings about:
☛ the causes and cures for depression, anger, and anxiety;
☛ skills for dealing with difficult situations and resolving conflicts.
Audio Podcasts
Prescriptions Without Pills TM
ElephantTalk: live marriage therapy session
MyNDTALK with Dr. Pamela Brewer.
Sirius XM Radio | Prescriptions Without PillsTM with Maggie Linton